History
Uwell is a renowned electronic cigarette brand that has gained a reputation for designing and manufacturing high-quality vape devices and accessories. Founded in 2015, Uwell has quickly become a prominent player in the vaping industry.
The brand's journey began with a commitment to innovation and craftsmanship. Uwell's team of engineers and designers have consistently pushed the boundaries of technology to create products that deliver exceptional performance and user experience. Their dedication to excellence has earned them a loyal following among vaping enthusiasts worldwide.
One of Uwell's breakthrough innovations came in 2016 with the release of the Crown Sub-Ohm Tank. This tank became an instant hit due to its superior build quality, innovative coil designs, and remarkable flavor production. The Crown tank quickly established Uwell as a leading brand in the market.
Building on their success, Uwell continued to introduce innovative products. In 2018, they launched the Caliburn, a game-changing pod system that set new standards for performance and convenience. The Caliburn became a favorite among vapers for its sleek design, ease of use, and outstanding flavor delivery.
Uwell's commitment to quality is evident in their manufacturing process. They use only the finest materials and employ strict quality control measures to ensure every product meets their high standards. This focus on quality has earned Uwell numerous awards and accolades, further solidifying their position as a top-tier brand.
As the vaping industry evolves, Uwell remains at the forefront of innovation. They continue to develop new technologies and refine their existing products to meet the ever-changing needs of vapers. With a reputation for reliability, performance, and customer satisfaction, Uwell continues to be a trusted choice for vapers around the world.
Features
The Uwell vaping device offers a stylish and compact design, perfect for those seeking a satisfying vaping experience. Resembling a sleek USB stick, this closed-system, rechargeable e-cigarette comes complete with a USB charging dock and a one-year warranty. Products include high quality vape pens, vape systems, vape tanks, starter kits and accessories such as the Crown series and Caliburn series.
Uwell Caliburn Series & Price
Some say it's the best pod vape on the market, others say it's nothing special. Here's everything you need to know about Caliburn series by Uwell and their prices. When you don't know how to choose the right kit for you, read this article carefully.
Uwell caliburn a3s Price & Details ( $19.99 )
Introducing the Uwell Caliburn A3S, a sleek and powerful pod system designed to elevate your vaping experience. Crafted with high-quality materials, including PCTG and Aluminum Alloy, this device exudes durability and sophistication.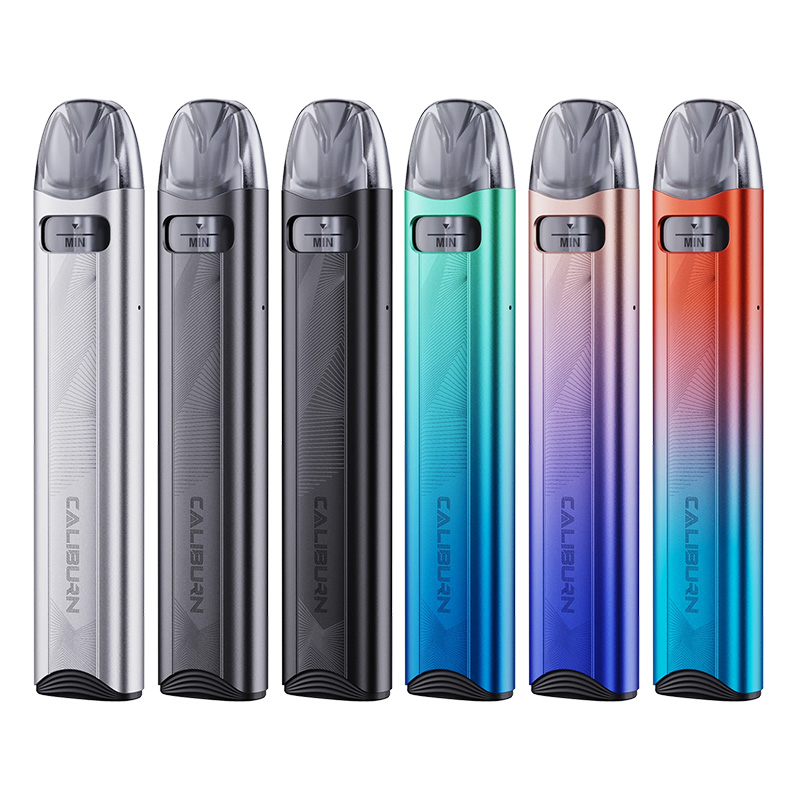 Measuring at 109.8 mm × 21.3 mm × 11.7 mm, and weighing just 32.6 g, the Caliburn A3S boasts a compact and lightweight design that fits comfortably in your hand or pocket, making it perfect for on-the-go vaping.
With a generous e-liquid capacity of 2 ml, the Caliburn A3S allows for longer vaping sessions before needing to refill. Powered by a built-in 520 mAh battery, this device provides ample power to deliver a satisfying vaping experience throughout the day.
The Caliburn A3S comes equipped with two refillable pods. The pre-installed pod features a FeCrAl Meshed 0.8 Ω coil, delivering rich flavor and impressive vapor production. Additionally, a spare pod with a FeCrAl Meshed 1.0 Ω coil is included, offering versatility and catering to different vaping preferences.
Operating at a maximum output power of 16 W, the Caliburn A3S ensures a consistent and enjoyable vaping experience, whether you prefer a milder or more intense vape. The device is designed for ease of use, featuring a draw-activated firing mechanism, eliminating the need for buttons and allowing for a seamless vaping experience.
Uwell Caliburn Vape Price & Details ( $19.99 )
Get the Uwell CALIBURN Vape 11W Pod System, a sleek vape pen designed for optimal performance. With its lightweight Aluminum Alloy chassis, integrated 520mAh rechargeable battery, and 2mL refillable pod, the CALIBURN is a must-have for vapers.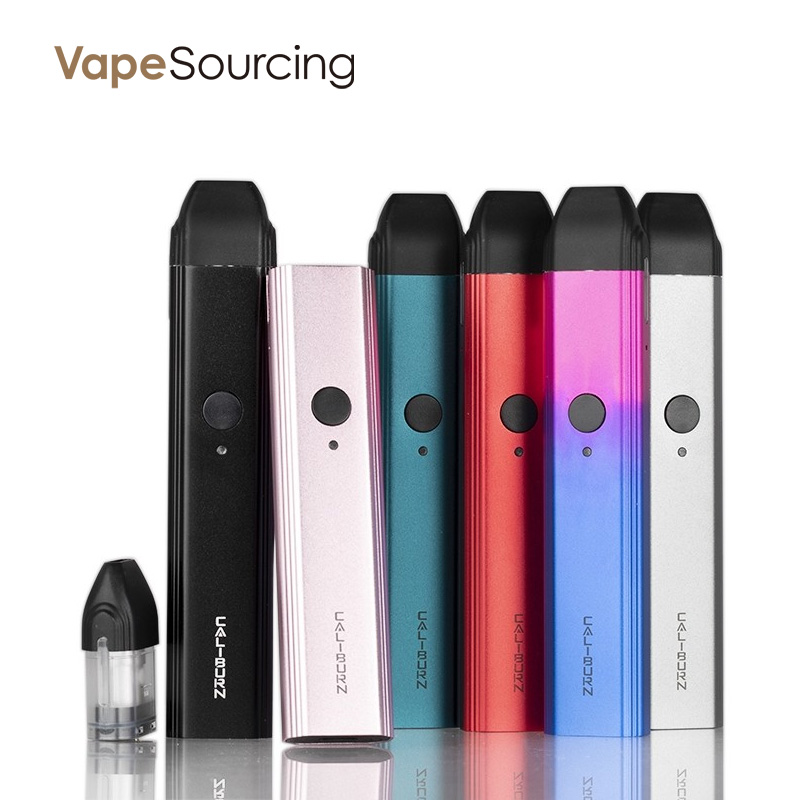 The CALIBURN features a dual method firing mechanism, allowing you to activate it either through the draw-activated firing mechanism or the intuitive firing button. This ensures convenience and functionality.
Equipped with Uwell's proprietary Pro-FOCS flavor technology, the CALIBURN delivers enhanced flavors by recycling drawn airflow through the atomizer core, resulting in a condensed and flavorful vape experience.
The 2mL top-fill pod is perfect for your favorite eJuices and operates at a resistance of 1.4ohm, providing a satisfying and complete vaping experience.
Experience the excellence of the Uwell CALIBURN Pod System and enjoy a streamlined vaping journey from online vapes store.
Uwell Crown Series & Price
Uwell Crown B Price & Details ( $33.99 )
Discover the Uwell Crown B 35W Pod System, a remarkable device that combines power, versatility, and convenience. Featuring an integrated 1150mAh battery, the Crown B Pod System ensures extended vaping sessions without the need for frequent recharging. Constructed from drop-resistant zinc-alloy, the device is not only durable but also ergonomically designed to fit comfortably in your hand.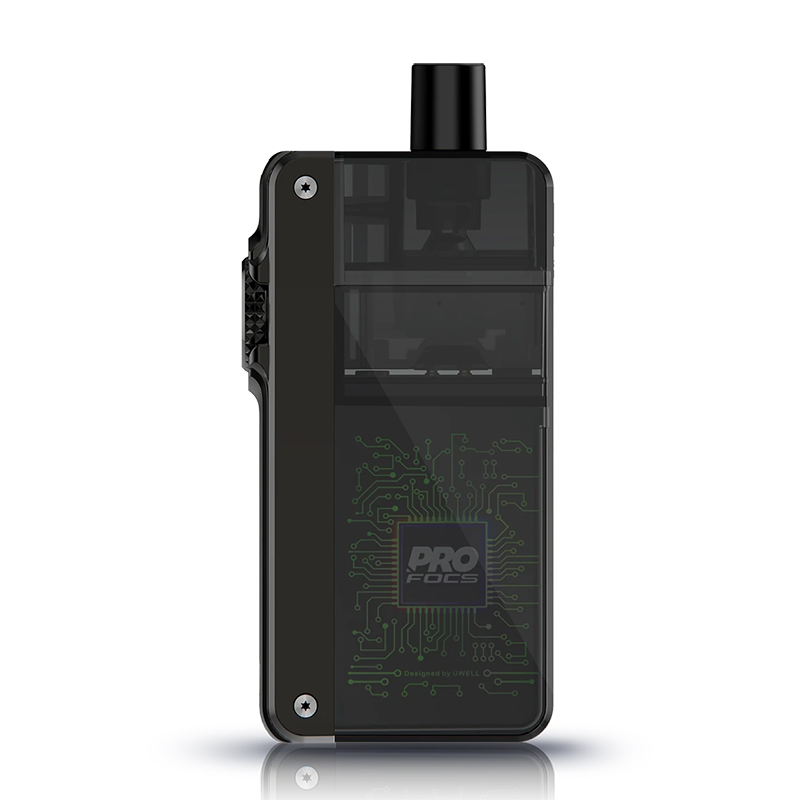 Equipped with the Crown B Pods, this system boasts a generous 3.5mL e-liquid capacity, reducing the need for constant refills. Recharging the device is a breeze thanks to the Type-C Port and cable, allowing for fast and efficient charging.
The Crown B Pod System utilizes a triple-tiered output system, capable of delivering up to 35W of power. The output level is indicated by colored lighting, providing a visually appealing vaping experience. With the built-in power dial and airflow switch, you have full control over your vaping experience, catering to both nicotine salts and freebase eJuice.
The versatility of the Crown B Pod System shines through with its compatibility with 0.3ohm or 0.8ohm PA coils. Whether you prefer MTL (mouth-to-lung) or DL (direct lung) vaping, the Crown B has got you covered, delivering deliciously flavored vapor with every puff.
You may also like: